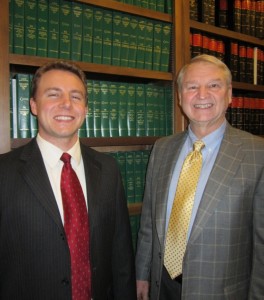 Michael D. Hurtt – Managing Partner
Mike Hurtt has practiced law for over 40 years at the same location in Dalton, GA, specializing in consumer defense and bankruptcy law.  He has defended clients in hundreds of collection and deficiency balance lawsuits and he has filed thousands of successful bankruptcy cases.  He is on the Board of Trustees at Dalton State College and is an active member in the local community.
Education – B.S. West Georgia College 1974; J.D. John Marshall Law School 1977; Admitted to Georgia Bar August 9, 1977.
David W. Johnson – Partner
David Johnson joined the firm when it was called The Hurtt Law Firm in 2009 and his practice focuses on consumer bankruptcy, chapter 12 farm reorganization, small business cases, and foreclosure defense.  He has been a featured speaker on chapter 12 bankruptcy practice.  He has received the medal of excellence from the American Bankruptcy Institute and while attending Emory University School of law, was awarded a scholarship from the Southeastern Bankruptcy Law Institute.
Education – B.S. University of North Carolina 2006; J.D. Emory University School of Law 2009; Admitted to Georgia Bar November 6, 2009.
President – Conasauga Bar Association (Whitfield and Murray Counties) 2014-15